This Week at Trinity 1/24/17
January 24, 2017
Wednesday at Trinity Cathedral:
Schedule:
Cherub Choir at 4:30 p.m.
Eucharist with Healing at 5:05 p.m.
Dinner 5:15 p.m. – 6:15 p.m.
Tower Bell Ringers at 6:00 p.m.
Seraphim Choir at 6:15 p.m.
Classes for all ages at 6:15 p.m.
Class Descriptions:
Praying with the Poets (Baker Parlor): Join the Rev. Amber Carswell for a tour of Christian poetry, from the Anglican divines, like George Herbert and John Donne, to modern poetry from Wendell Berry, Denise Levertov, Mary Oliver, and many more. Each week will cover a different aspect of prayer and introduce a myriad of poetry to help you pray along.
Coloring with Jane Hankins (Staff Lounge): Want to clear your mind and get your creative juices flowing? Join artist Jane Hankins for a laid-back hour of coloring and conversation with her new coloring books. For ages 12- 122.

Relationships 101 (Morrison Hall): Relationships 101 will not meet this week.


February 1: The Mythology of Sexuality: Why Sex Has Very Little to Do with Behavior.
February 8: How to Have a Healthy, Long-Term Relationship.
Click here to sign up for classes.
For more information on class offerings and their locations, please visit the Formation section on our website.
Saturday at Trinity Cathedral:
Howard Payne University Choir Concert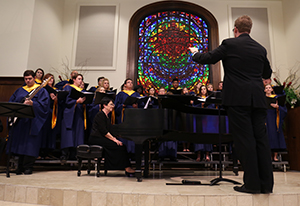 January 28, 2017 at 7:00 p.m.
The Howard Payne University Concert Choir from Brownwood, TX will present their touring concert "Creator Created Creating: My Maker's Bounding Line" on Saturday evening, January 28 at 7:00 p.m. in the Cathedral.   This concert is drawn from "The Creation" by Joseph Haydn with many other choral masterpieces and composers represented, all of which refer to the act of creation.  Doors open at 6:00 p.m. for this free concert. For more information, email Victoria Harden, victoria@trinitylittlerock.org.
Sunday at Trinity Cathedral:
Preaching this Sunday: The Rev. Canon Dr. J. Russell Snapp
Sunday Adult Formation will not meet due to Annual Meeting.
Annual Meeting and Potluck at 10:15 a.m. in Chancellors' Hall. Trinity will provide the chicken & bread, and asks for sides and desserts to be provided by the parishioners: last name A-R = Sides and Salads, S-Z = Desserts. We all look forward to seeing that special bowl or pot or platter with a favorite dish being shared. Please bring your favorite dish to Chancellors' Hall before the 9:00 a.m. service.

You can find more on Adult Formation here.
Children's Formation meets at 10:10 a.m. for all ages.  It's never too late to join.  You can find more on Children's Formation here.
EYC:
Youth (Grades 6-12) will meet in Lower Mitchell during the formation hour.

EYC will meet at Professor Bowl (901 Town Oaks Drive) at 5:00 p.m.
Evensong:
Evensong will continue this Sunday at 4:00 p.m. in the Chancel. Immediately following Evensong, social time featuring British tea and other light refreshments will be held in Morrison Hall. A brief liturgy of Holy Communion will also be offered in the chapel after.
Hendrix Chapel Choir at Evensong
Sunday, January 29 at 4:00 p.m. in the Cathedral
On Sunday, January 29, the Hendrix Chapel Choir will lead the music at the 4:00 p.m. Evensong service in preparation for their residency in Tewkesbury, England this summer. The Hendrix Chapel Choir is a student-led vocal ensemble that leads choral worship on the Hendrix College campus. This August, the choir will hold a week-long residency at Tewkesbury Abbey, a 900-year-old church just a few miles from the Welsh border. As a way of preparing for the tour, the choir is performing every piece of music at our service of Evensong at the Cathedral. These services around central Arkansas serve another purpose too; the offerings go towards their fundraising efforts. Our music for the service will be:
Preces and Responses: Richard Webster
Psalm: 35 set to Anglican Chant by Charles Villiers Stanford
Canticles: Evening Service in G major by Charles Villiers Stanford
Anthem: O Lord, the maker of all things by William Mundy
Voluntary: Præludium Circulare by Charles-Marie Widor
This is truly beautiful and worshipful music, so come worship with us on January 29 at 4:00 p.m. and support the Hendrix Chapel Choir in their preparations for their residency in England.
Cathedral Offices will be closed Monday, January 30.