The Trinity Cathedral Music Program
The Music Program at Trinity Cathedral seeks to be a channel of God's grace:
inspiring both the choirs and congregation to sing with both mind and heart;
encouraging singers and all parish musicians to offer their best in worship;
embracing the rich heritage of Anglican church music and passing that heritage on to future generations;
exploring creative and new ways to express faith in God through music.
The Cathedral Choir
The Cathedral Choir sings regularly for the 9:00 a.m. Choral Eucharist and seasonally offers Evensong, Lessons and Carols, and Choral Settings of the Eucharist at the 11:15 a.m. service. The choir consists of a professional quartet, students in the Robert Wilson Choral Scholars Program and lay singers both from within and friends of the parish. Our choral sound and much of our literature is rooted in the Anglican tradition, and our repertoire varies from Gregorian Chant to the most recent composers of sacred choral literature.
If you can read music, we need you!  The Cathedral Choir rehearses on Wednesday evenings at 7:15 p.m.
The Cathedral Handbell Choir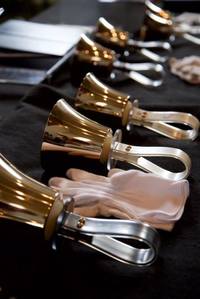 The Cathedral Handbell Choir provides music for preludes, postludes, or other parts of our services on an occasional basis. Additionally, smaller ensembles accompany or add musical ambience to hymns, psalms, or anthems. Membership is open to all persons from high school and up. Although handbell playing does require practice and keen attention, it is a skill that can be acquired within months, rather than the years needed to become proficient in other areas of music. It is a fun and rewarding way to contribute to the music and worship of the Cathedral.
Anyone is welcome to join us - no previous experience required!  We will teach you!  Please join us for rehearsal on Wednesday evenings at 6:00 p.m. in the Cathedral.
Tower Bells
The Cathedral has a full peal of bells in its Tower and is a center for the art of campanology (change bell ringing). The Trinity Ringing Society meets every Wednesday evening from 6:00 p.m. thru 7:30 p.m. Full instruction is offered to beginners, and all are welcome to try. The Centennial Bells are rung every Sunday before services, other special occasions, and are often requested for weddings. The change bell ringers can be watched in the Bell Tower every Sunday morning.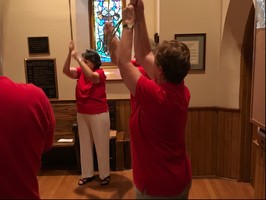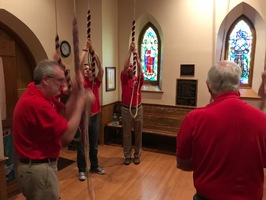 Robert Wilson Choral Scholars
The Robert Wilson Choral Scholars fund provides select high school or college students with a stipend to sing in the Cathedral Choir. Among the purposes of this program are to encourage young musicians, assist in the development of their choral skills, and honor the use of their talents in service to the Church. Auditions are held in May, August, and by appointment with the Director of Music. The Choral Scholars Fund was established by parishioner, Jane Wilson, in honor of her late husband, Bob, who was an accomplished singer and lover of music.
Our singers and ringers are convivial groups who diligently and joyfully rehearse to provide the finest music for worship at the Cathedral. New members are always welcome. Contact the Director of Music for information about joining any of the music ensembles or other ways to assist the music program.
Opportunities for Young Singers
The Cherub Choir (ages 4-6)
Rehearsal Time: Wednesdays, 3:30-4:15 p.m 
The Seraphim Choir (Grades 2nd-6th) 
Rehearsal Time: Wednesdays, 4:30-5:30 p.m. 
The Jane Wilson Girls Choir (Grades 7th-10th) 
Rehearsal Time: Mondays, 7:00-8:00 p.m
All Children's Choirs will meet in the choir room above Morrison Hall. 
Annual Christmas Pageant
The Cathedral's Annual Christmas Pageant is scheduled for Sunday, December 15 at 4:00 p.m. The Cathedral's Christmas Pageant was instituted by Dean Charles Higgins in 1957. With the exception of a single year's hiatus, the pageant has been performed with only minor changes ever since. There are both speaking and singing parts for individuals and ensembles. Participation is open to all youth in the parish K-12.